Online-meeting on the Algorithm of data collection for the four WHO Europe indicators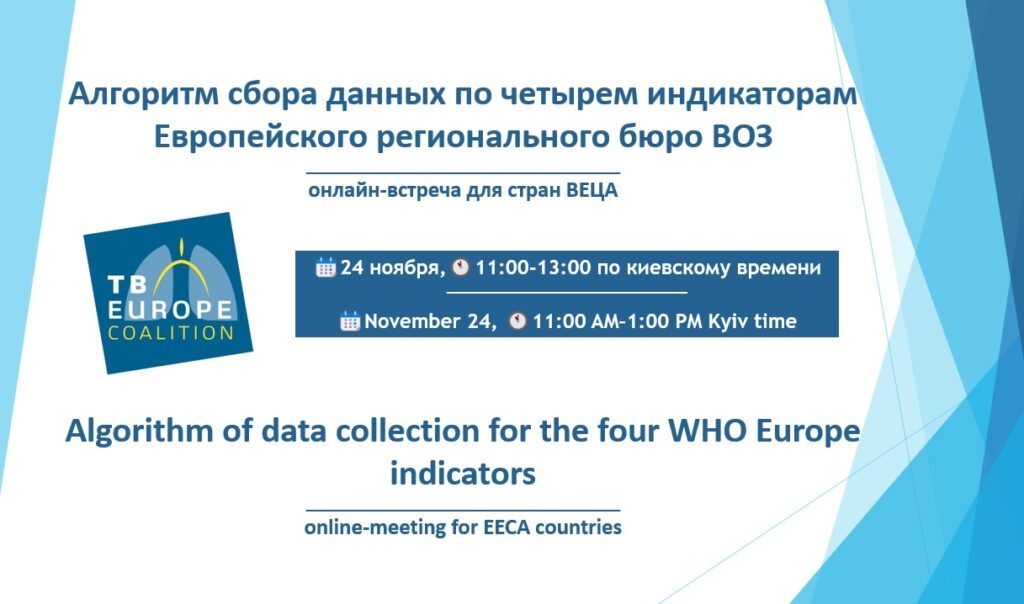 To strengthen the mobilization of communities and civil society organizations in the implementation of the systematic data collection mechanism, the TB Europe Coalition, in partnership with the WHO Regional Office for Europe, developed the "Algorithm of data collection for the four WHO Europe indicators to measure the level of engagement of communities and CSOs in the National TB response included in the new TB Action Plan for the WHO European Region for 2023–2030" – https://cutt.ly/xMELSFd
The document describes in detail the structure and components of the data collection process, as well as existing approaches and indicators.
Considering that the mechanism of systematic data collection is one of the key factors for timely adoption of the essential managerial decisions at the country, it has a significant impact on improving the effectiveness of TB response measures that are implemented by communities and civil society organizations.
As such data collection for the four new indicators is planned in all priority countries in the WHO European Region, civil society and communities affected by TB are invited to participate in an online event on the Algorithm of data collection for the four WHO Europe indicators.
To be involved in country processes related to reporting, at the meeting you will learn:
– How and when does WHO reporting take place,
– How CSOs and representatives of the community affected by TB can participate in the collection of data on new WHO indicators,
– What reporting priorities can you include in your project proposals to support the country.
The meeting is scheduled for 24 November, 2022 at 11.00-13.00 Kyiv time.
The languages of the event are Russian and English.
We kindly ask you to widely disseminate the information about the event among your colleagues and partners in the countries of the EECA region and register at the link https://us06web.zoom.us/webinar/register/WN_iEp1-5AMQqWreGnF4lvxgQ
If you have any questions regarding the document or the event dedicated to discussion of the document, please contact the TBEC Programme Manager Lesya Tonkonog by e-mail tonkonog@tbcoalition.eu.
Services for migrants and refugees from Ukraine – HIV/TB care with a focus on key populations
Regional Platform – EECA
This web-resource is a part of new regional communication and coordination project "Regional Civil Society and Community Support, Coordination and Communication Platform - EECA", implemented by Eurasian Harm Reduction Association (EHRA).
Partners