28.10.2021. Take part in the webinar of the Communities Delegation to the GF Board on the new Global Fund Strategy
Join a final Communities consultation on the new Global Fund Strategy. The new Global Fund Strategy for 2023-2028 will be voted on at the 46th Global Fund Board Meeting from 8 to 10 November 2021. Join the Global Fund Communities Delegation and the Love Alliance to give your views on the final draft of the Global Fund Strategy Narrative.
This consultation will be a final opportunity to share your views on the role of HIV, TB and malaria communities, the need for a community funding-stream and community-led service delivery, the decriminalisation of key populations and other matters important for you in the Strategy.
When: Thursday, 28 October 2021, 14:00 -15:30 EAT (Kyiv)
Register in advance for this webinar: https://bit.ly/3vDP2F0  After registering, you will receive a confirmation email containing information about joining the webinar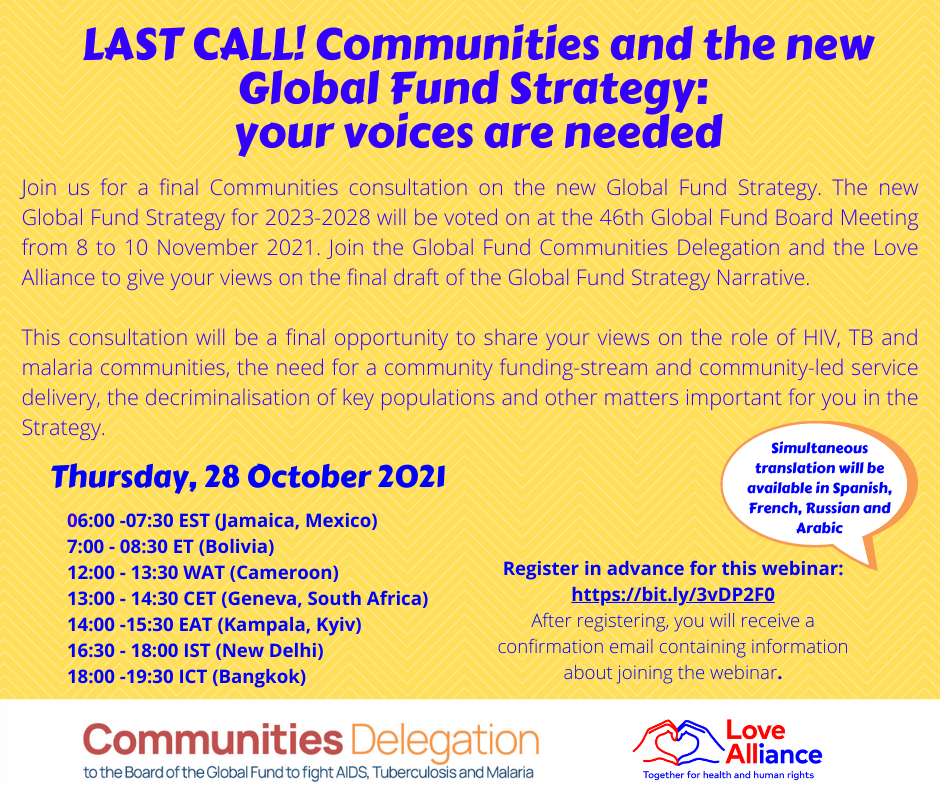 Services for migrants and refugees from Ukraine – HIV/TB care with a focus on key populations
Regional Platform – EECA
This web-resource is a part of new regional communication and coordination project "Regional Civil Society and Community Support, Coordination and Communication Platform - EECA", implemented by Eurasian Harm Reduction Association (EHRA).
Partners